Each day between December 1-25, we will look at one of the traditional symbols of Christmas, what these symbols mean and how they tell the Christmas story of our Savior's birth.
Chrismons
Chrismons are Christmas ornaments placed on the Christmas tree with Christian symbols on them. Today, they are often used in a church called "The Hanging of the Greens." In this service, the congregation participates in a worship service that decorates the worship area for the Christmas holidays while acknowledging the true meaning of Christmas. Chrismons help Christians to remember the brith, life, ministry, death, and resurrection of Christ. Some Christian homes will also use Chrismons on their tree at home.
The Beginning of Chrismons
Chrismons were first used at the Ascension Lutheran Church in Danville, Virginia in 1957. Frances Kipps Spencer introduced Chrismons and came up with the word, "Chrismon," which is a combination of Christ and monogram (meaning symbol). Therefore these decorations are symbols that tell us about Christ. The idea quickly spread to other churches. Many Christian groups make their own Chrismons with their favorite symbols on. Therefore, you may see different Chrismons in different churches and different denominations. Centuries-old symbols are used to represent a variety of biblical and theological concepts that are well known to most believes.
Each Christmas since that service in 1957, a 20 foot Christmas Tree has been decorated with the use of Chrismons at the Ascension Lutheran Church. Visitors and congregants alike come to hear the message of Jesus through the use of the Chrismons.
What do Chrismons look like?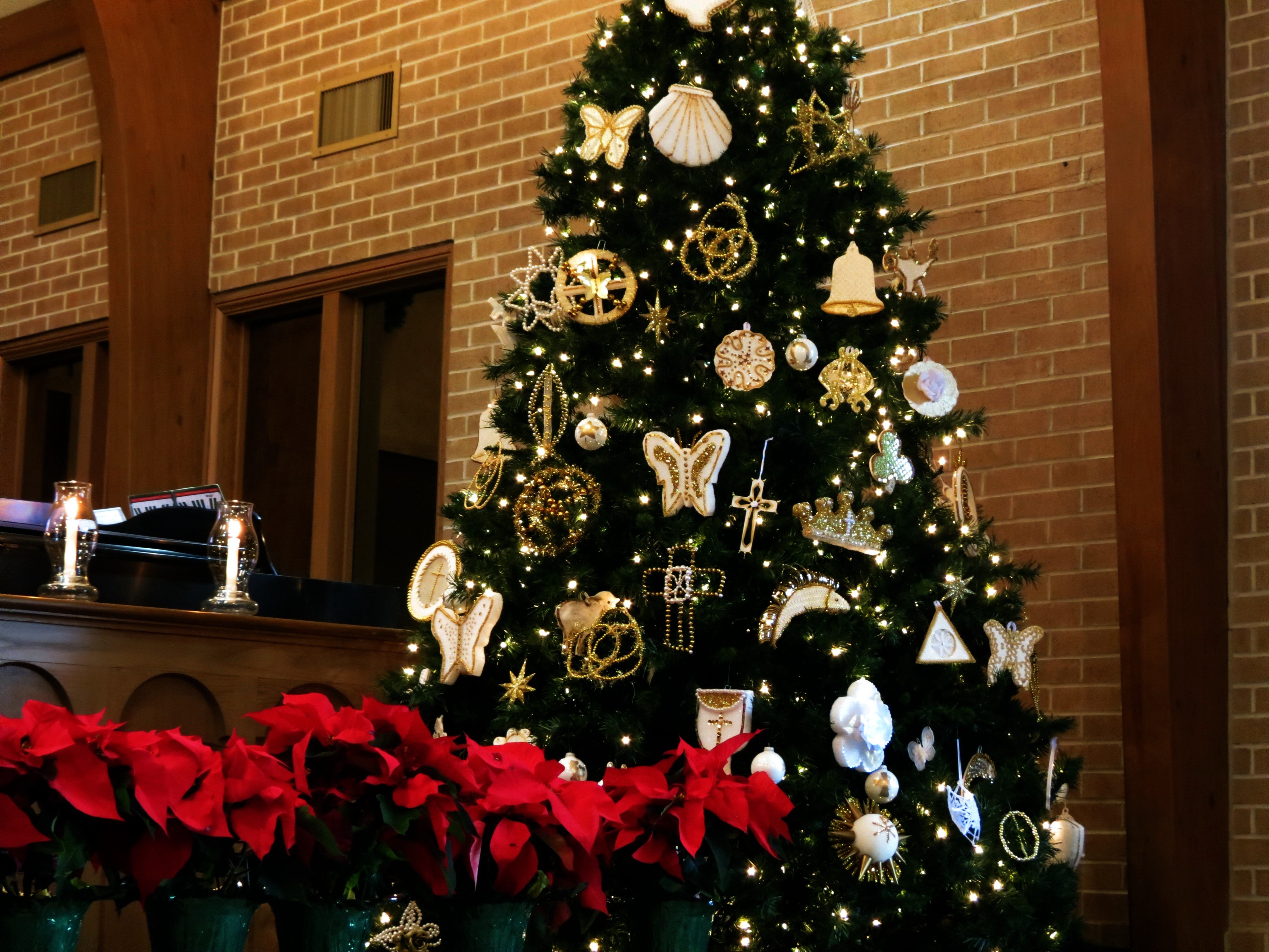 Chrismons are traditionally colored white and gold. White is the liturgical (or Church) color for Christmas and symbolises that Jesus was pure and perfect. Gold symbolises His Majesty and Glory.
Chrismons can be made from nearly anything, but white paper, Styrofoam, and embroidered ones are the most widely used. Most often the shapes are cut out and then decorated with gold glitter, paint, or thread.
What are the meanings of the Chrismons?
In the next few posts, we will discuss a few of these Chrismons their meanings. We will also provide patterns for the Chrismoms we'll discuss so you can make your own Chrismons to use on your Christmas Tree.
Check out our Spreadshop store with Christian Tees and other products
The elves have been busy! Check out these new Christmas designs
There are only 3 weeks until Christmas. Products are printed when ordered, so allow time for printing and shipping. See them all in the store.
Here are some of our other Christmas Christian tees designs.
Here are a few samples of our Christmas designs. You can see them all in the store. There are only 5 weeks 'til Christmas. All designs are printed when ordered so you'll need to give time for printing and shipping. Order early to ensure they arrive in time for wearing this holiday season or giving as gifts.
Here are some of our favorite designs
Face Masks now available!

Anything is possible

With my song I will praise Him

All Things New

Way Maker

Walk by Faith

Script Unstoppable God

Print Unstoppable God

Unstoppable Force

Steps of a Good Man

Something New

Seek and Find

Revive Us Again

Resist the Devil

Raise a Hallelujah

Path of His Commands

Prayer Warrior

Beloved- Mr and Mrs

Mr and Mrs – God's Plan

Man of God

Cast All Your Cares

Giants

Faith over Fear

Faith Can Move Mountains

Don't Worry

Don't Quit

Created to Praise

All things are Possible

What the Lord Requires

Living for the world to see Jesus

Godfidence

Walk by faith

2021 Trailer – All things possible – Be still – It's fine

Test positive for faith

Test positive for faith
Listen to our Christmas Playlist on YouTube
Get a head start on your Christmas Shopping at Christian Book Distributors
Only 4 weeks 'til Christmas!
Click here to enter the Christian Book Distributors 2020 Christmas Collection
Wellspring Christian Ministries receives an 8% commission on any purchased made from Christian Book Distributors through any affiliate link on this site. Your price for any item is the same as purchasing from CBD directly.
Here's some of our recent posts.
What's Inside God, Love and Marshmallow Wars?
This book includes 365 daily activities and takes you on a guided journey through Biblical principles about Godly marriage that you can then apply to your marriage, as well as helping you talk through concepts that can help you develop a solid relationship. Inside you will find simple, quick activities that include:
Scripture to memorize and meditate on.
Conversation Starters.
Concepts from the Bible on Godly marriages.
Romance Builders.
Relationship Builders.
Personal reflections.
Date ideas.
Group date ideas for you and other Christian couples.
Available in hardback, paperback and ebook from Westbow Press Bookstore, Christian Book Distributors, Amazon, and Barnes & Noble. Click the icons below to purchase from your preferred bookstore. Now also available at WalMart online.
904.239.8937
A non-profit ministry located in Jacksonville, FL

Follow us on: